Text Message Reminders for your RSVPs – Get a more accurate head count for your event
How annoying is it when a guest RSVPs for 10 people and then only 2 show up to your event? You paid good money for those extra 8 plates of food! Not to mention the other supplies you had to pay for to accommodate the head count that you thought was accurate.
The good news is, it doesn't have to be like that anymore. Text message reminders are a great way to get a last minute update on your guest count for you event and the best way to confirm your head count is accurate.
In this post we'll walk you through how to send text message reminders for your RSVPs using Replied App.
For text message reminders, you'll want to wait until you've already received most (or all) of your RSVPs. Text message reminders will only be sent to your guests that have already responded to your RSVP.
Head on over to the "RSVPs" page by clicking the RSVPs button on the left side of the screen. Here you'll see your RSVPs and at the top right of the screen you'll also see a blue button that says "Send Text Message Reminders." Click this button.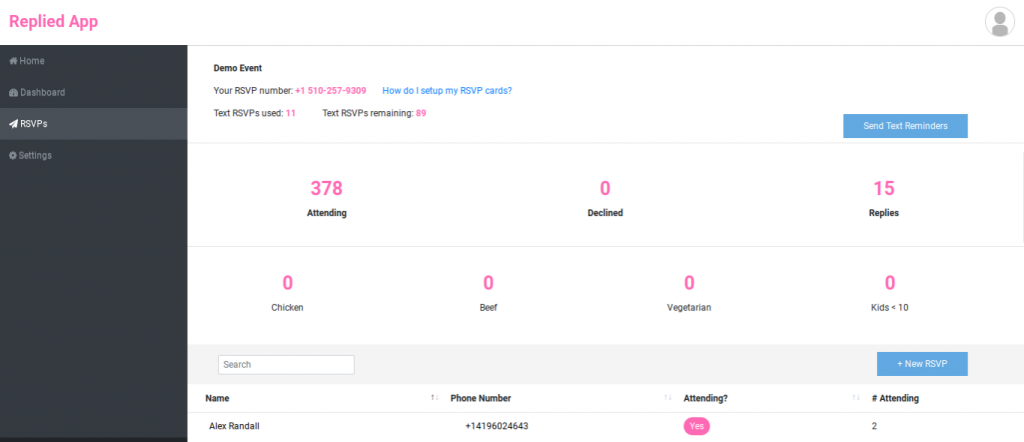 A pop up will appear reminding you that you can only send text message reminders once and that they should be sent close to your event date so that your final head count will be as accurate as possible. In the pop up, you'll see another button that says "Send Text Message Reminders Now." When you're ready, click this button.
Once you click the send text reminders now button, you'll see a green check mark notifying you that your text reminders have been sent. The Replied App system will now send a text message to everyone that has sent in an RSVP and the text will read "Hello again, this is a reminder to update your RSVP status for [your event name] if anything has changed. Reply with the word 'edit' if you wish to edit your RSVP. Otherwise you can ignore this message."
If any of your guests reply with the word "edit," Replied App will loop back through the RSVP questions and gather their updated information. Give your guests a couple days to update their RSVPs then head back over to the RSVPs page and view your update head count.