Wedding RSVP Examples – Sample RSVPs you can use for your wedding
It can be hard to setup your wedding RSVPs if you don't have any RSVP examples to look at. That's why we're giving you plenty of RSVP examples in this post! Take note of the wording and how different wording on the RSVP cards have different purposes (like limiting the number of guests).
RSVP Example 1 – Standard RSVP Card with text message RSVP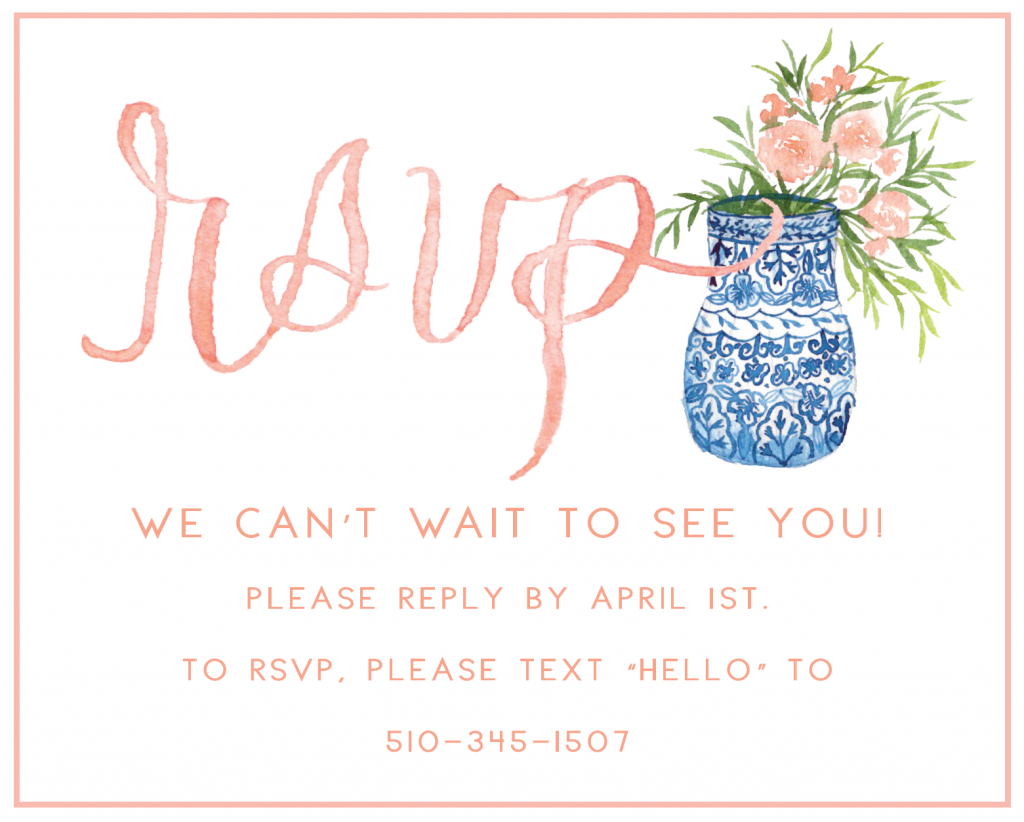 Above is a custom, hand painted (using watercolors) RSVP example. You can find RSVPs like this on Etsy, and have artists hand paint and customize RSVP cards for you. Then all you have to do is tell them the wording that you want, and then take the high quality image they give you to the printers. This RSVP example is from one of our users who had a friend who is an artist paint it based on their wedding theme. Their RSVP card actually matched their wedding decorations!
Notice the "Please Reply by April 1st." You'll ALWAYS want to call out the RSVP deadline on your RSVP cards so you can get your head count soon enough to notify your venue, caterer, etc.
Also notice, they used Replied App to gather their RSVPs via text message, so they included their RSVP phone number. You can also use any word besides "hello" if you would like (if you wanted to use your wedding hashtag you can do that too).
RSVP Example 2 – Modern Black and White RSVP Card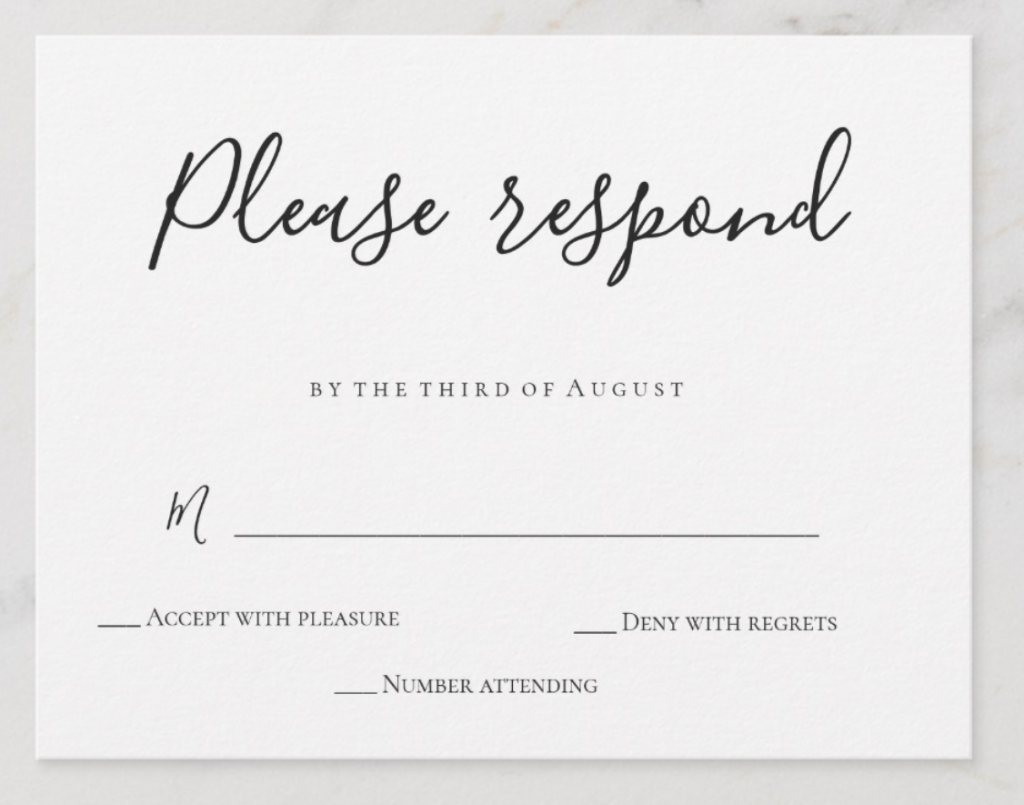 This is a great RSVP example because you can match it with ANY type of invitation. It's modern with calligraphy, but also black and white so you won't have any color clashes (if you have a really colorful wedding invitation).
This RSVP example is also very simple, but does ask for the number attending so you can limit your guest count. Remember, if you want to limit your guest count, you will need to hand write a number on every single RSVP card you send out. You write the total number you want in the party next to the "Number Attending" right on top of the little line. This lets each party know how many they are allowed to bring and keeps you from wondering "who is that random person at my wedding?"
The only thing you will actually need to edit on this RSVP is the RSVP deadline. Everything else can be left as is. If you're using Zazzle to create your RSVP cards online, simply edit that deadline field, select a quantity, and then click "Add to cart."
RSVP Example 3 – Simple Botanical RSVP Card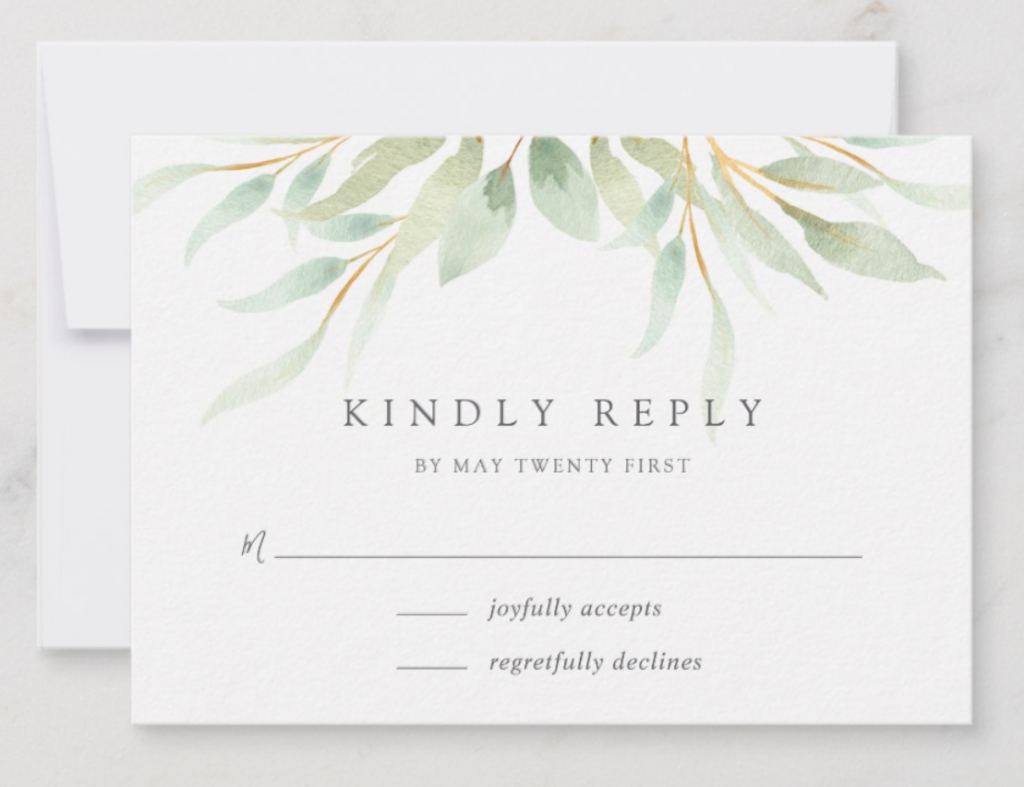 This is the simplest RSVP example you can find. It is only asking if you are attending or declining. No asking for number attending or meal preference (or anything else for that matter). This works great for smaller weddings when you already have a pretty good idea of who will be attending (like just family and close friends). Your guests will simply fill in their name and check one of the boxes and mail it back.
Remember! If you are using physical envelopes and having your guests mail their RSVP cards back to you, you will need to buy additional envelopes and stamps for them and include them inside the larger envelope that includes your wedding invitation. That way, your guest will simply write their name and check the box, slide the RSVP card into the already setup envelope and pop it in the mailbox.
RSVP Example 4 – Asking for meal preference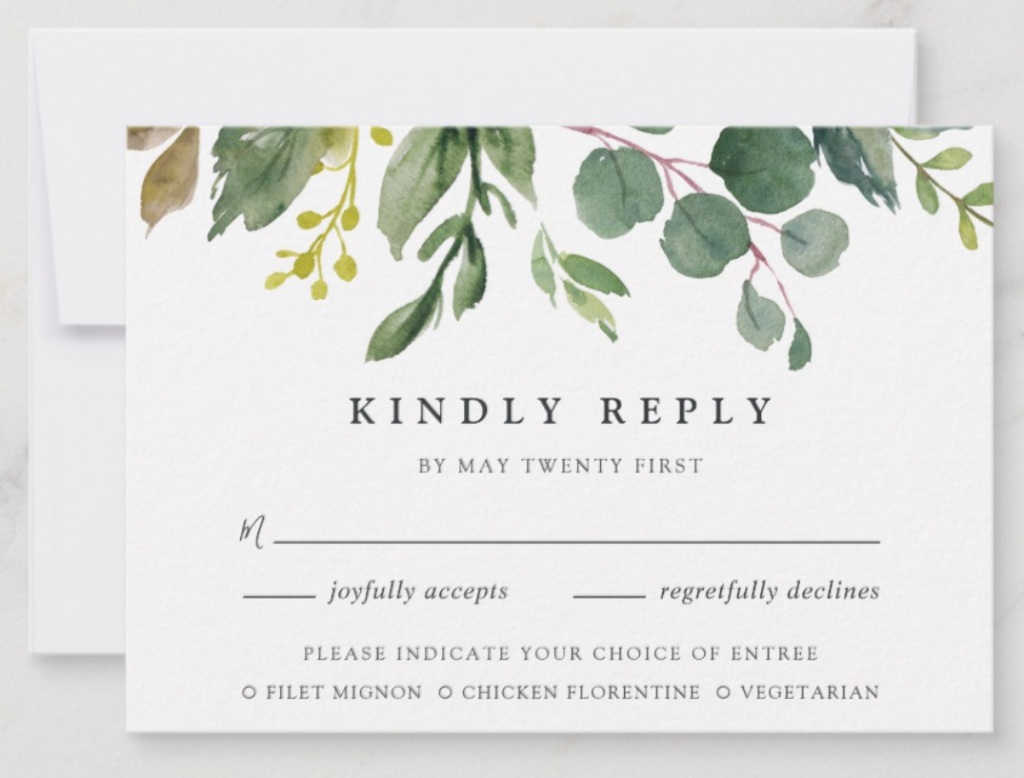 If you're having a formal sit down dinner at your wedding with name cards and everything, you'll want to ask for meal preference so you can get a count for the caterer. In the RSVP example above, you can see this RSVP asks for 3 meal options, filet mignon, chicken florentine, or vegetarian. You should always give the vegetarian option for your vegetarian friends or even friends with sensitive stomachs!
Obviously, the meal options above probably won't be what you're serving so you'll have to edit your RSVP card online. All the websites where you can buy RSVP cards will allow you to edit the RSVP online and put in your own meal options. Just click "Personalize" next to the card and click each meal option and start typing your meal options.
Note: It's not required, but usually a good idea to ask if your guests have any food allergies so you can notify your caterer. You are unable to do that in this RSVP example, but if you used Replied App for text message RSVPs, you can add a custom question and have it say "Do you have any food allergies?"
RSVP Example 5 – Destination Wedding Boarding Pass RSVP Card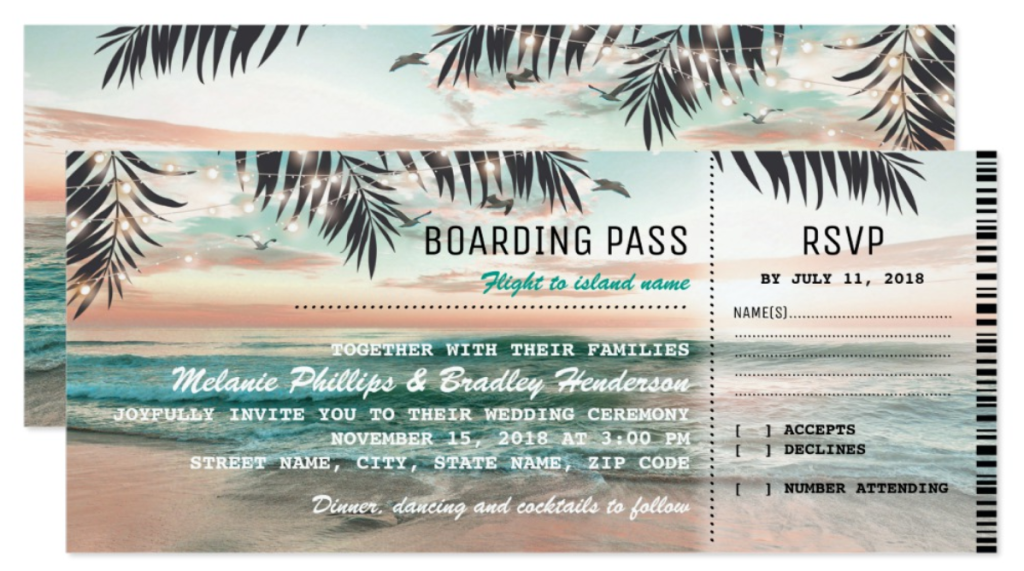 Having a destination wedding is incredibly fun for everyone, so why not make the RSVP card fun too? Many couples choose to use boarding pass RSVP cards for their destination wedding, so that's what we chose for this RSVP example.
As always, you'll want to put your RSVP deadline somewhere obvious (this RSVP example has it at the top) and use the online RSVP editor to change the date to your wedding date.
This RSVP example also includes the number attending question. This is very important for destination weddings because some of your guests may not be able to travel, so you need to know if they aren't able to come!
RSVP Example 6 – Rustic Boarding Pass RSVP Card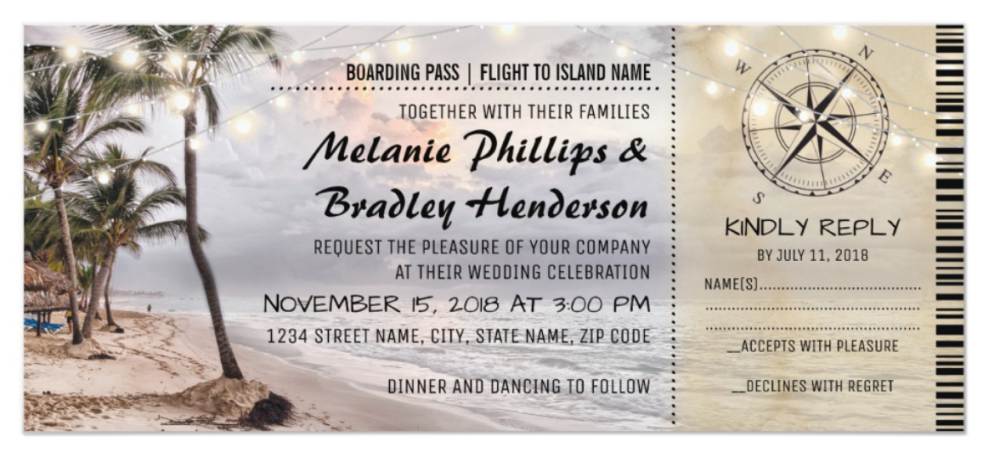 Here's another example of a destination wedding RSVP card. This one is slightly more rustic than the other one above with it's navigation compass and string lights. It has the same sort of setup as the other boarding pass RSVP card, so edit your details the same way.
Any of the above RSVP cards can also be used with Replied App to gather your RSVPs via text message automatically. Simply edit the RSVP card and include "To RSVP, send a text message to 510-123-4567." You can setup your event today by going to www.replied.app
If you're looking to setup your wedding invitations too, we have a post that walks you through how to do that here: Setup your Zazzle Invitations for your Wedding