How to setup your invitations for text message RSVPs
The great thing about replied app is that you have multiple invitation options to choose from. All the options below give you the ability to quickly and conveniently receive all your RSVP replies with the replied app text rsvp app. After you setup your replied app account and receive your dedicated RSVP phone number, use one of the options below to setup your invitations.
Option 1: Paper invitations
A lot of weddings still go the traditional route with paper invitations and RSVP cards, and pairing this with text message RSVPs is a great option because it takes the headache out of receiving RSVP replies in the mail and counting them up by hand. Also, buying the extra stamps for your guests to mail their RSVP replies back gets very expensive. To save even more money and skip buying RSVP cards, you can include your dedicated replied app RSVP phone number right on the actual invitation. The other option is to include a traditional RSVP card, but instead of including a return envelope with a stamp, place your replied app number on the RSVP card.
Using the template editor on whichever website (minted.com, canva.com, zazzle.com) you are buying your RSVP cards from, delete the line for guests to fill in their information and in it's place, type out "To RSVP, send a text message to [your replied app rsvp number]." See the two examples below (also created on canva.com):
Invitation without RSVP card:
Option 2: Invitation Flyer (for events not requiring a formal guest list)
For events that don't require a formal guest list and invitations to be sent (office fundraiser, company holiday party, etc.), create a flyer with the event information and place it in a public place - such as in an office where your coworkers will see. At the bottom of the invitation flyer, add a line that reads "Please RSVP by the 10th of May. To RSVP, send a text message to [your replied app phone number]." We used a company leadership conference as our example below:
Option 3: Email invitations
If you want don't want to bother with paper invitations or spending money, email invitations are a great option. You can make them as simple as sending a note about the event date and time or as complex as emailing an animated image with the event information. See the two examples below:
Simple email invitation example:
With this option, your invitations are free and you can send as many as you want by including the guests email addresses. We used a corporate event (company cookout) as an example. Once the email is received, the guests will text your dedicated replied app RSVP phone number and the replied app platform gathers and tallies their RSVP replies automatically. Be sure to place your replied app phone number in the bolded area.
Option 4: Online Invitations - With Paperless Post
If you're having a less formal or smaller event that doesn't require formal paper invitations, you can use online invitations with paperless post. Paperless post has some beautiful online invitation templates to choose from, and you can still use text RSVPs to gather your RSVP replies!
First you'll want to select an invitation that you like - for this example we're using a 30th birthday party online invitation. Go ahead and click the "customize" button to open the invitation customization screen.
Go ahead and put in all the information about your party (name of the event, date of the event, etc).
Click the next button. This will take you to the envelope customization screen. Click next two more times to get past the envelope customization section.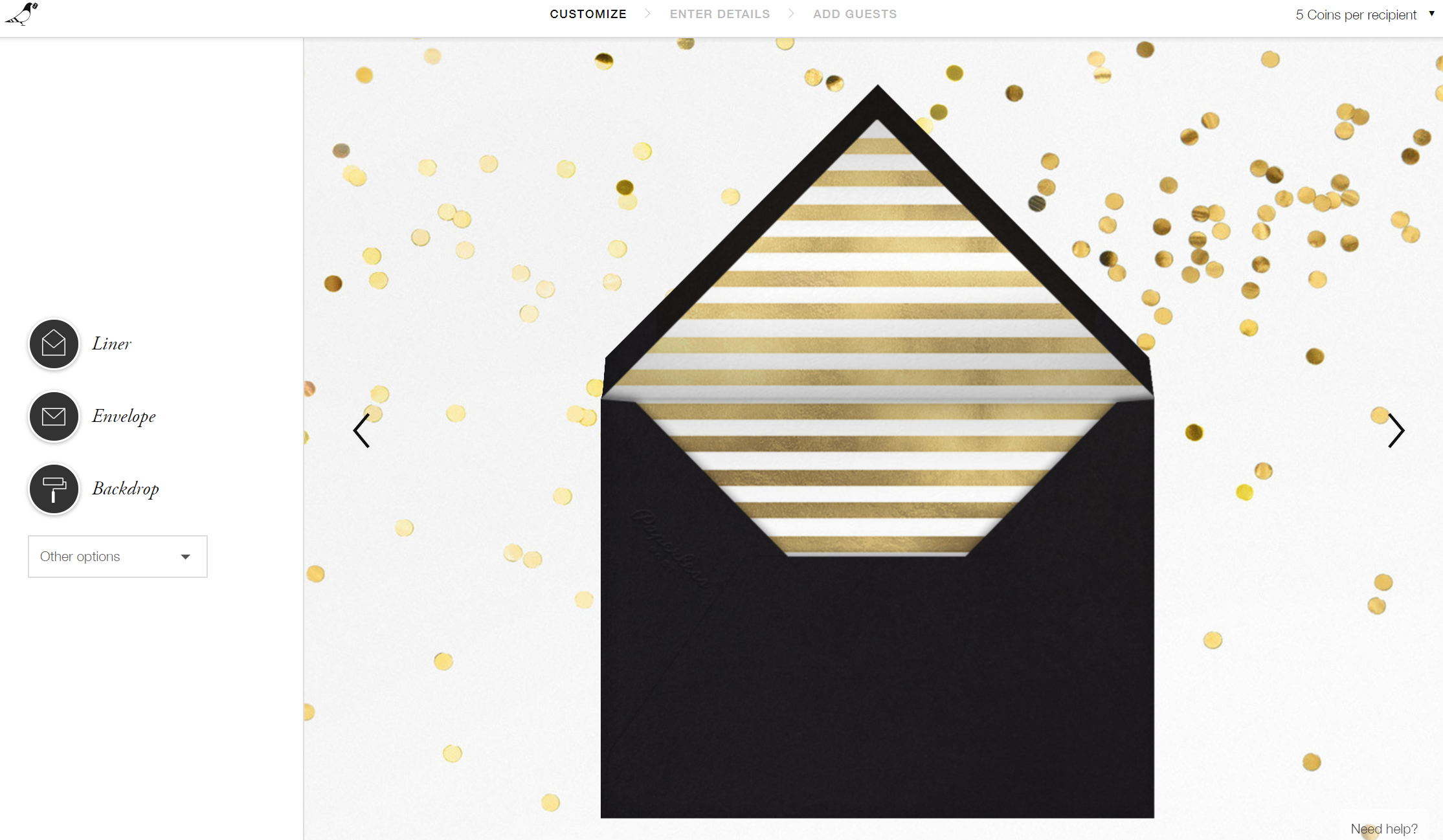 Here comes the important part. If you want to use text message RSVPs, select "CARD WITH WEBSITE LINK" instead of the standard invitation with RSVP option. This will disable the default online RSVP and allow you to put your text RSVP number in the RSVP card description. Click "Done" to continue.
On the "Enter Details" screen, type in your event name and host name. For the URL, you can enter "www.replied.app" so your guests can lookup additional information about text RSVPs if they want, or you can put any other website you would like (your guests won't use this to RSVP).
For the link description, this is where you will put your text message RSVP number. Type in "To RSVP, send a text message to [your rsvp number]. We are using Replied App to automatically gather our RSVPs via text."
For the "Text to appear on button" field, simpy type in "More information." If your guests click this link, they can learn more about how Replied App works.
You're all set! Now when your guests open your paperless post online invitations, they can simply send a text message to your RSVP number to reply to your online invite.
If you like the online invitation design above and want to use it for your event, check it out on paperless post here.
We also have a great blog post on how to setup your Zazzle invitations for text message RSVPs. Check that article out here.
RSVP CARD RESOURCES
zazzle.com